---
Call For Papers for the Inaugural Issue Vol.1 No.1
INTERNATIONAL JOURNAL OF SOFT COMPUTING AND NETWORKING (IJSCN)
Inderscience Publishers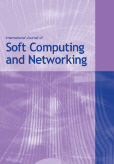 http://www.inderscience.com/ijscn
---
(first issue to appear in January 2015)
IMPORTANT:
SUBMIT BEFORE MAY 31, 2014 and your paper can be considered for inclusion in the inaugural issue of the journal. Please note that the first issue of the journal will be subject of special promotion and thus raising the visibility of your scientific achievements.
AIM AND SCOPE:
IJSCN addresses the interdisciplinary and trans-disciplinary nature of two of the most promising and rapidly expanding fields of computation: soft computing and networking. IJSCN helps to promote the further integration and fusion of both disciplines within practical applications and fosters discussion on theoretical advances of such integration. It addresses state-of-the-art contributions within both fields, acknowledging the complexity of present-day communication networks as well as related abstractions, virtualisations, algorithm design and improvement, thus meeting the challenge of achieving efficiency, sustainability and optimality.
International Journal of Soft Computing and Networking (IJSCN) is a peer reviewed multidisciplinary international journal publishing original papers, review papers, technical reports, case studies and book reviews. Special Issues devoted to high-profile topics in soft computing and networking will occasionally be published.
The journal welcomes author submission of original and significant contributions. Articles submitted should not have been previously published or be currently under consideration for publication any place else and should report original unpublished research results.
TOPICS:
Topics suitable for IJSCN include but are not limited to:
Soft computing (SC) for network architecture, design and management
SC and quality-of-service, scalability solutions
Fairness, optimality, efficiency of network resource sharing and distribution
SC and network deployment, management and operation
SC for network security (monitoring, VPN, certification etc.)
SC for network applications (www, email, etc.) and their operation
Heuristic and metaheuristic approaches for networking technologies
Combinatorial optimisation and combinatorial designs for networking problems
Network metrics, network growth and percolation models
Fuzzy information processing for modelling of users and network-based services
Validation, evaluation and simulation approaches
Nature-inspired networking paradigms
Soft networking, network virtualisation, cloud and networking services
INFORMATION:
All papers must be submitted and refereed through an on-line peer review system. http://www.inderscience.com/ospeers/authorregister.php
Please read our information on preparing and submitting articles. http://www.inderscience.com/info/inauthors/author_submit.php
There is no submission or publication fee.
There is an option to publish your article in open access
All enquiries and special issue proposals should be directed to the IJSCN Editors:
Mario Köppen mkoeppen-at-ci.kyutech.ac.jp Masato Tsuru tsuru-at-cse.kyutech.ac.jp